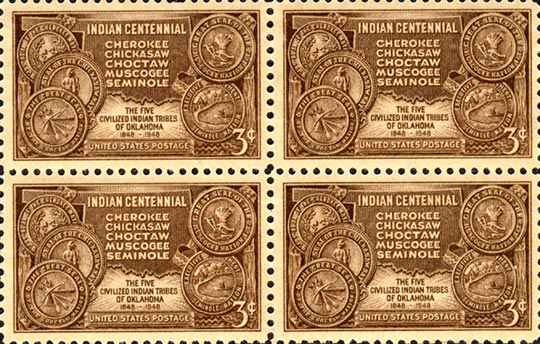 Indian Centennial, Oklahoma,
1948
Scott Postage Catalog #972
This block of four engraved stamps was issued on October 15, 1948 to commemorate the centenary of the arrival of the "Five Civilized Indian Tribes" in Oklahoma.

The dark brown stamp features a map of Oklahoma and Seals of the five tribes.

As far back as 1789, George Washington and his Secretary of War Henry Knox recognized that the young nation needed a fair and comprehensive policy toward treatment of all Native Americans. The integrity of the tribes was being destroyed through both duplicitous treaties and encroachment into their territories by white settlers. No Native Americans had sat at the table in Paris for the Treaty ending the War; "Knox [argued] that the prevailing policy of the United States toward Native Americans was nothing less than a direct repudiation of the values embodied in the American Revolution."*

Interpreting the new Constitution, Washington defined the tribes as foreign nations, and envisioned honorable treaties with the tribes that would ensure their survival against the invasion by white settlers, requiring the westward expansion to bypass the enclaves, "leaving several Indian territories east of the Mississippi that would eventually...be assimilated as new states."*

Washington's and Knox's noble design was doomed to failure from the start. Negotiation with the Creek Nation and the "civilized" tribes (meaning those that had forsaken hunter-gatherer life for agricultural pursuit) were impacted by the scheming of Creek leader Alexander McGillivray, who persisted in playing off American and Spanish interests in the Southeast. Land speculation by Georgia interests, combined with the Federal Government's inability to prevent the spread of white settlement, ensured that the tribes could not survive intact on their chosen lands.

They were removed to Oklahoma in 1848 from a territory that had spanned an arc from Tennessee to the Florida panhandle.